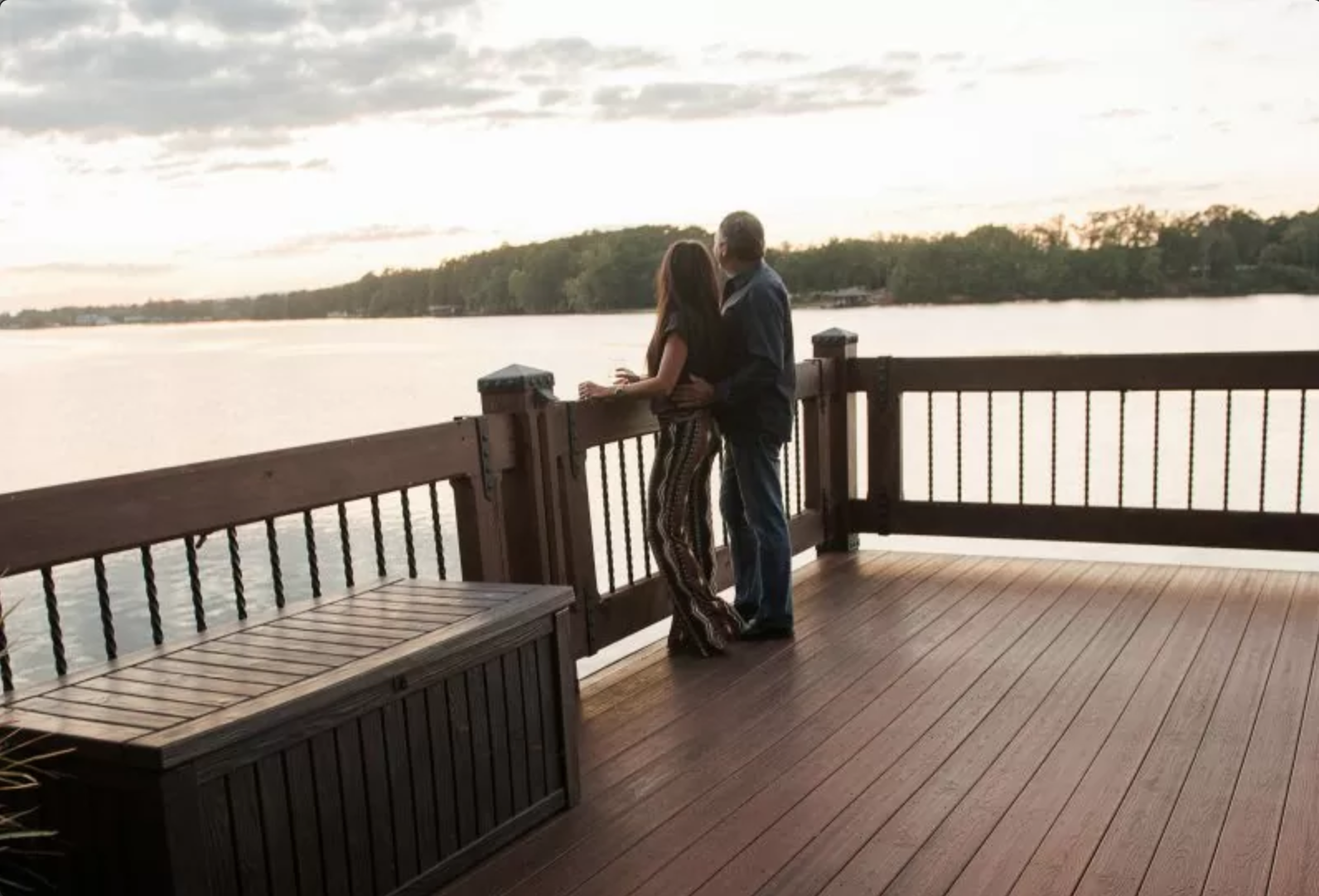 Advice from Envision on Waterfront Deck Designs
The opportunity to design a deck with a waterfront view is a great opportunity for an experienced contractor to showcase their craftsmanship. The natural beauty of the setting makes it easy to build something clients will love.
Waterfront Decks Are All About the View
With waterfront deck designs, it's important to consider the orientation of the site where you intend to build. Does the deck have easterly or westerly exposure? Morning sunrises and evening sunsets make for beautiful views over the water, so incorporating them into deck designs are sure to wow the client. A multi-level deck design will give your clients a variety of stunning views of the waterfront that they'll enjoy throughout each day. When you're designing a waterfront project, composite decking is a great choice. Composite decking gives you the flexibility to bring the waterfront to the home with a boardwalk and dock incorporated into the larger deck design. Clients will love the chance to enjoy a barefoot stroll with the comfort of Envision decking from their backdoor right to the water's edge.
Don't Forget About Railing
No waterfront deck design is complete without a railing to go along with it. Not only is vinyl railing naturally water-resistant, but it can also add a little something extra to impress your clients. Imagine homeowners and their guests enjoying the scenic waterfront sunset while leaning against the deck railing.
Blend Your Waterfront Deck Ideas with Natural Surroundings
There are few natural features found in a home that is more enjoyable than a waterfront view. For those homeowners lucky enough to have such lovely surroundings, a waterfront deck is a great way to bring the beauty of the natural environment into outdoor living spaces. For your next waterfront deck project, look to include other natural features, like a beautiful oak tree. Incorporating more natural elements will enhance the outdoor living space using the idyllic environment around the home. Decorative potted plants and flowering bushes also make a lovely complement to the refined look of Envision Composite Decking and Railing products. Looking for more inspiration? Using Riverstone retaining walls to create a multi-level living space and incorporating them into the stairs descending from the deck brings the natural beauty of the waterfront right to the outdoor living space. Consider Gunstock from the Ridge Premium Collection for a decking color that will look great with stonework.
Feature Indoor Amenities in Outdoor Living Spaces
No matter the season or the time of day, your clients will want to make the most of their scenic setting. So, when you are designing a deck, plan for daily use all year-round. Outdoor fireplaces are a great option for cool evenings and warm firelight. A handsome ceiling fan provides a cool breeze even on hot summer days and can be color-coordinated with a variety of decking aesthetics. Consider including a covered screened-in dining area for spending time outdoors with friends and family no matter the weather. Tangled Twine from our Inspiration Collection is a great choice for bringing a homey indoor feel to screened-in living spaces. For the outdoor kitchen, Grey Wood from our Distinction Collection offers a lovely complement to the modern appeal of stainless steel grills and appliances in an outdoor kitchen.
Explore Waterfront Deck Design with Envision
A waterfront view is an amazing feature for any deck design, and Envision Outdoor Living Products will help you make the most of it. With beauty, quality and comfort, we have everything you need to capitalize on an amazing view with an equally amazing outdoor living space.